At Creative Hospitality Group (CHG) we strive to provide our customers with great value and great experiences. We understand that the past few years have been difficult, and now more than ever, the cost-of-living environment we are facing is making life that much harder. That is why our team has been working hard behind the scenes to develop a new loyalty scheme that will offer all of our customers even more value across all of our venues this New Year.
App launch date: coming soon
CLUB CHG
All of our customers are invited to join our new loyalty programme: Club CHG. Through the Club, we want to give back to our customers for making our venues as great as they are, and to show our appreciation for your dedication. That is why members will have access to exclusive, personalised promotions, events and menu items. Club CHG draws together rewards and value from all of our brands to give the most back to you.
Customers who have already downloaded a CHG app will automatically be allocated membership in Club CHG. This means no sign-up process is needed, just launch our new app and enjoy the rewards! If you do not already have an account with us, download the Peppermint App, to be relaunched as 'Club CHG', and create an account. For customers who do not wish to be members, an opt-out form can be found here: Opt-Out.
As our Club grows, the benefits will keep getting better. Remember to keep the notifications on your app turned on to keep up to date with our exclusive promotions, discounts and invitations. CHG looks forward to welcoming you into the Club.
The Club CHG App
All members can access their account through the new Club CHG App. From the app, you can review your account, find your promotion codes, order from the menus for each of our venues, discover our events, and make booking reservations. As the app grows, we have exciting new pipelined initiatives. Through the new year, we look forward to sharing with you our exciting new projects, so listen out as we work to make 2023 a great year for all of our customers.
The app itself will offer customers a brand new, easy to use experience designed around you. Behind the scenes, our excellent partners developing the app have been taking the existing Peppermint App and are remodelling it ready to be launched as the Club CHG App. This means all customers who already have the Peppermint App downloaded will not have to download any new app, just make sure your automatic update settings are turned on. All of our other apps will be discontinued. We kindly ask all of our customers using the BrewStone app, Bambu app and Frangos app to download the Peppermint app, to become the Club CHG app, as soon as possible. A link to download the app for those with an Apple device can be found here: APP STORE; for customers with an Android device, click here: GOOGLE PLAY.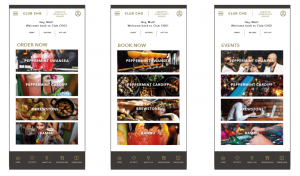 Questions and Support
We understand some of our customers may have difficulties regarding the technical side of Club CHG, or might have some questions about it. That is why we have a dedicated team ready to respond to your questions and queries. To get in touch you can send an email to our support team here: Information form. As ever, our excellent staff across our venues are also ready to help you.
https://www.creativehg.co.uk/wp-content/uploads/2023/01/Picture-2-1.jpg
485
653
Ouma Marketing
https://www.creativehg.co.uk/wp-content/uploads/2023/02/CHG-logo-1.png
Ouma Marketing
2023-01-26 19:46:09
2023-01-27 17:47:34